Stilvoll und selbstbewusst: Mode für Frauen ab 50 mit Bauch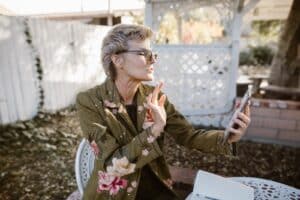 Stylish and self-confident: fashion for women over 50 with a belly
Aging brings with it many changes, also in relation to our body and shape. A challenge that many women over 50 face is the abdominal area, which is often difficult to conceal. Don't worry! In this article we will show you how to master fashion for women over 50 with a stomach and appear stylish and confident at the same time.
We present a variety of tips and tricks to help you create flattering outfits that showcase your personal style and make you feel great. Discover the art of cleverly concealing your tummy while emphasizing your assets – because fashion and elegance know no age limits.
1. Choose the right materials
Choosing the right materials plays a crucial role when it comes to creating stylish and flattering outfits for women over 50 with bumps. Here are some materials to consider:
Softly falling fabrics: Choose materials such as silk, viscose or fine knit fabrics that fall gently over the body and conceal your stomach area.

Stretch materials: look for fabrics with elastane content, which feel comfortable and allow you freedom of movement without constricting.
Avoid stiff or heavy materials as they tend to be bulky and do not flatter your figure.
2. The perfect cuts and shapes
When choosing the right clothes, you should pay attention to cuts and shapes that hide your stomach and emphasize your assets. Here are some suggestions:
A-line dresses and skirts:

These cuts are ideal for emphasizing the waist while concealing the tummy area.

Empire tops and dresses:

Due to the high waist cut, the focus is placed on the chest area and the stomach is skilfully played around.

Tunics and loose blouses:

They offer enough freedom of movement and caress your stomach without adding bulk.

Loose-fitting pants:

choose pants with a comfortable waistband and slightly flared legs to hide the tummy area.
Avoid clothing that is too tight or form-fitting, which could draw unwanted attention to your abdomen.
3. Colors and Patterns
Choosing the right colors and patterns can also help to camouflage your tummy area and balance your figure overall. The following tips can be helpful:
Dark Colors:

Deeper colors like black, navy blue, or dark green have a slimming effect and can help you visually reduce your tummy.

Vertical Lines:

Longitudinal stripes or vertical line patterns draw the eye up and down, creating the optical illusion of length and slimness.

Eye-Catching Tops:

Wear tops with interesting patterns or colors that draw attention to your upper body and thus distract from your stomach.

Solid color bottoms:

Go for plain, dark pants or skirts to focus on the top and to make the stomach area more inconspicuous.
Avoid too conspicuous patterns or colors in the stomach area, as these could draw the eye to this area and thus emphasize your stomach.
4. Stylish accessories
Accessories can add the finishing touch to your outfit while also helping to camouflage your tummy. Here are some ideas on how to use accessories to your advantage:
Long Necklaces:

Wear long necklaces or pendants that draw the eye vertically, creating a slimmer silhouette.

Scarves and shawls:

Wrap a scarf or shawl loosely around your neck so it flatters your figure and takes the focus away from your stomach.

Belt:

Wear a belt at or just above your waist to flatter your figure and visually divide your stomach area.

Statement Earrings:

Striking earrings draw attention to your face and distract from your stomach.
Avoid too large or conspicuous accessories in the stomach area, such as wide belts or hip scarves, which could draw the focus to this area.
FAQ
1. As a woman over 50 with a belly, can I also wear tight clothing?
Of course you can wear tight clothing if you feel comfortable in it. However, make sure that they are not too tight and do not emphasize your stomach unnecessarily. It is best to combine tight garments with loose-fitting pieces to create a balanced look.
2. How do I find the right bra that will visually reduce my tummy?
A well-fitting bra that supports and lifts your bust can help lengthen your torso, making your tummy appear smaller. When buying a bra, make sure it fits correctly and seek professional advice if necessary.
3. Are shapewear products recommended for women over 50 with a belly?
Shapewear can be a good option to flatten the tummy area and add a slimmer silhouette to your outfit. However, make sure that the shapewear fits comfortably and does not cut in. Only wear them when necessary and not every day to allow your skin and body enough freedom of movement.
4. As a woman over 50, should I wear high heels with my belly to look slimmer?
Answer: Heels can actually help your legs appear longer and slimmer, which in turn elongates your entire body. However, only wear shoes in which you feel comfortable and can walk safely. If high heels are uncomfortable for you, shoes with a moderate heel or wedge heel can also be a good alternative.
5. Which styles are particularly suitable for women over 50 with a belly?
Answer: There are no hard and fast rules about the styles that work best for women over 50 with a bump. It is important that you feel comfortable in your clothes and stay true to your personal style. However, classic, timeless cuts and colors are usually a safe choice to create elegant and flattering outfits.
Conclusion
As a 50+ woman with a belly, it is entirely possible to create stylish and flattering outfits that make you look confident and elegant. Pay attention to the right choice of material, cuts and shapes that hide your stomach, and rely on colors and patterns that make your body look harmonious. Complement your outfits with stylish accessories and make sure that you feel comfortable in your clothes and express your personal style.